AUGUST 28, 1971 : WE DEMAND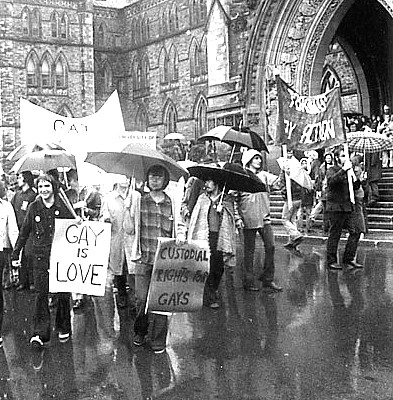 A demand for recognition, made at the doors to Parliament by a coalition of gay groups, this was the first major statement by the gay community as a community. A parallel demonstration was held in Vancouver at the same time. The thirteen page brief with its ten demands was prepared by Toronto Gay Action, co-ordinators and instigators of this demonstration. Among the speakers were Charlie Hill in a TGA guise, and George Hislop and Pat Murphy on behalf of CHAT. The front cover of the first issue of The Body Politic shows people boarding the bus in Toronto for this event.
The rally took place in a steady drizzle. TGA and CHAT had chartered a bus from Toronto to Ottawa. Another bus or two delivered people from other cities. On the Hill we huddled around the portico of the East Block, hesitant, waiting for the appointed hour, wondering if any onlookers or media would show up. It sure looked lonely, nobody to be seen but us. Finally we raised our banners and placards, and started up the hill to the Parliament Buildings. Once we showed signs of life the reporters and photographers began appearing out of nowhere. They had been waiting for us and we became news across the country.
A proclamation to the country of our presence as a community, this was equally and importantly the announcement to other gay people of our existence in Canada as a movement. On the anniversary of the legal changes of a couple of years before, it was declared that those changes would not do, that society itself would have to change, that we would in fact force it to change. Which we did. We've gotten farther than most of us ever thought we would in those days, and of course not nearly far enough.
I was a bit disappointed when the annual Pride Day in Toronto was moved from the anniversary of this August event to June, so it would coincide with the Stonewall celebration. Parochial on my part I suppose, it's hard for me to judge.
The TGA files at the Cdn. Lesbian & Gay Archives include brief personal reminisces of this event by George Hislop, Charlie Hill, and David Newcome.
==============================
August 21, 1991
"I went down to the Archives (Canadian Lesbian & Gay Archives) in the afternoon to finish up filing. . . . put up a display on the bulletin board to mark the 20th anniversary of the Ottawa demo of August 28, 1971. I'm probably the only person in the world who's bothered to remember it, who thinks it has great symbolic importance . . . Oh well."
In Toronto, at least, that's the way it felt in 1991. On the other hand even in 2011 Ottawa still holds Pride Week towards the end of August. Presumably this is a nod to 1971.

===============================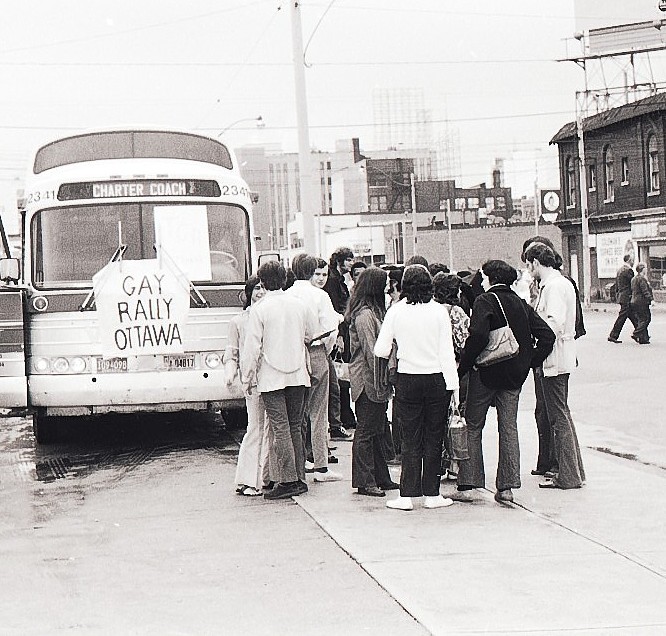 From the left: 1st, Andre Ouellette; 4th, peeking over a shoulder, Peter Maloney; 7th, facing right, Linda Jain; in floral pattern, facing right, Pat Murphy; behind her with shoulder purse, Stephanie St. John; to her right, Bart Moncq.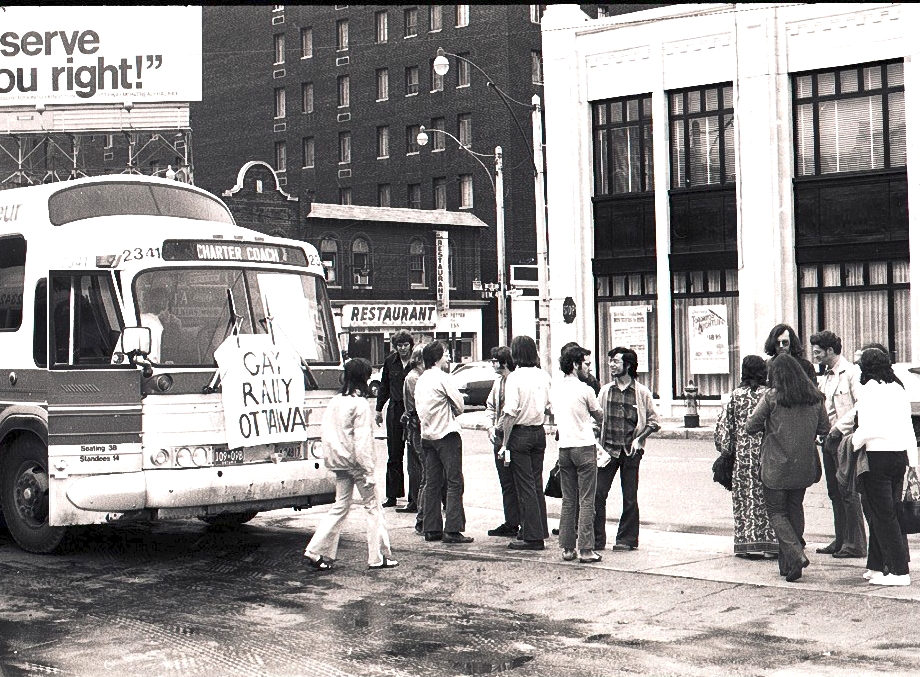 From the left: 1st, Andre Ouellette; 4th, back turned, white jacket and glasses, John Wilson; left of fire hydrant and gap, Peter Zorzi; right of fire hydrant in floral pattern, Pat Murphy; behind her, Linda Jain; a head above them in glasses, Tony Metie; to the right of him, Bart Moncq.
A relic of the old world and giving way to the new, across Bay St. is the Ford Hotel, with its drab decades-old Men's Beverage Room and its mixed gay/straight clientele. By 1973 the entire 12-storey building was gone, its cheap rooms no longer available for sex and mayhem of all varieties.
==============================
Veni,Vidi,Vici (collectively anyway)