PRIDE IN TORONTO IN THE 1970s:
(Jearld Moldenhauer has posted a couple of videos of the 1973 Pride march on Youtube. Click here to go to the first of these.)
TORONTO'S FIRST PRIDE CELEBRATION: THE 1971 GAY PICNIC
---
AUG.1, 1971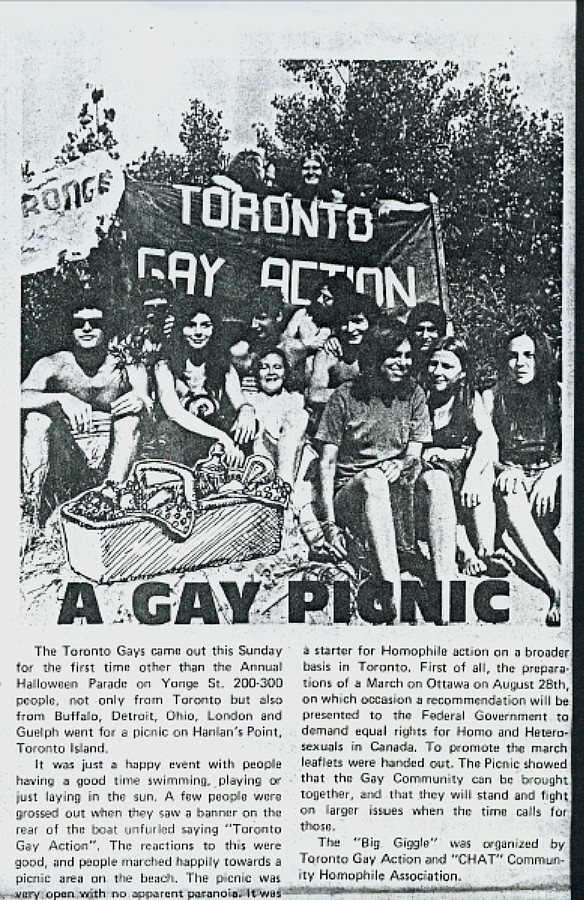 ---
OTHER PRIDE CELEBRATIONS OF THE 1970s IN TORONTO
---
(SCHEDULES FOR THE 1972, 1973, 1974 TORONTO GAY PRIDE WEEKS AND 1978 GAYDAYS)
GAY PRIDE WEEK AUGUST 19-27, 1972
---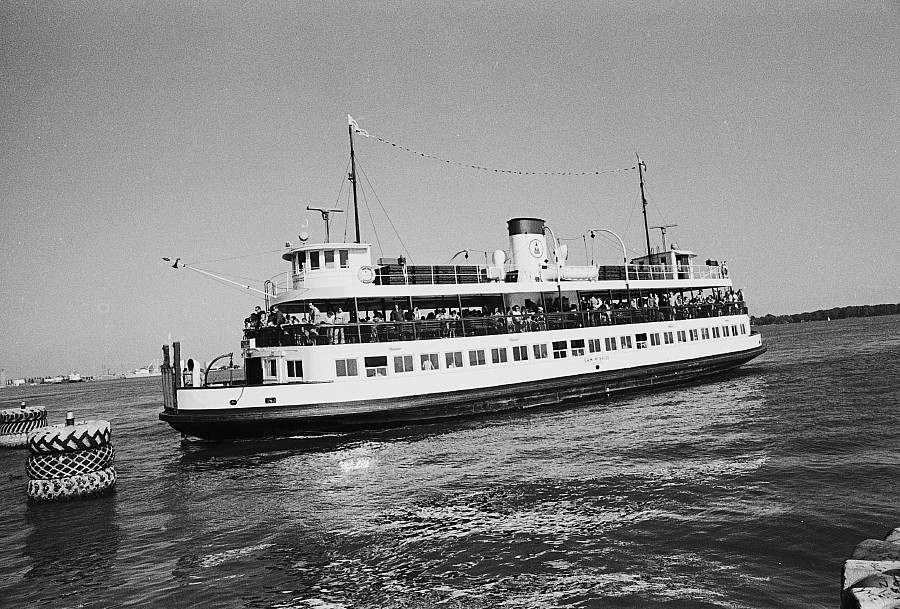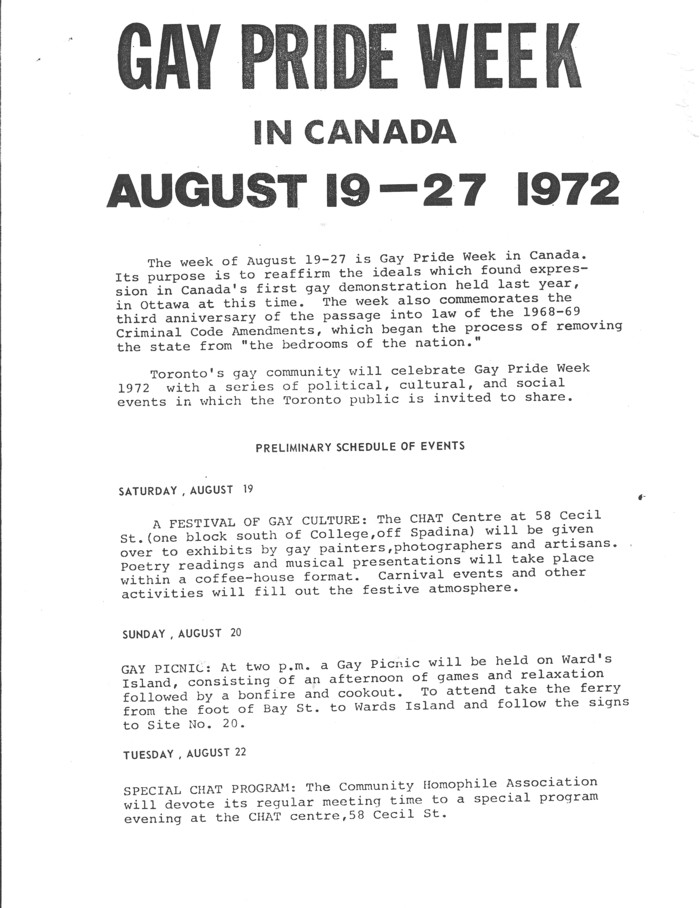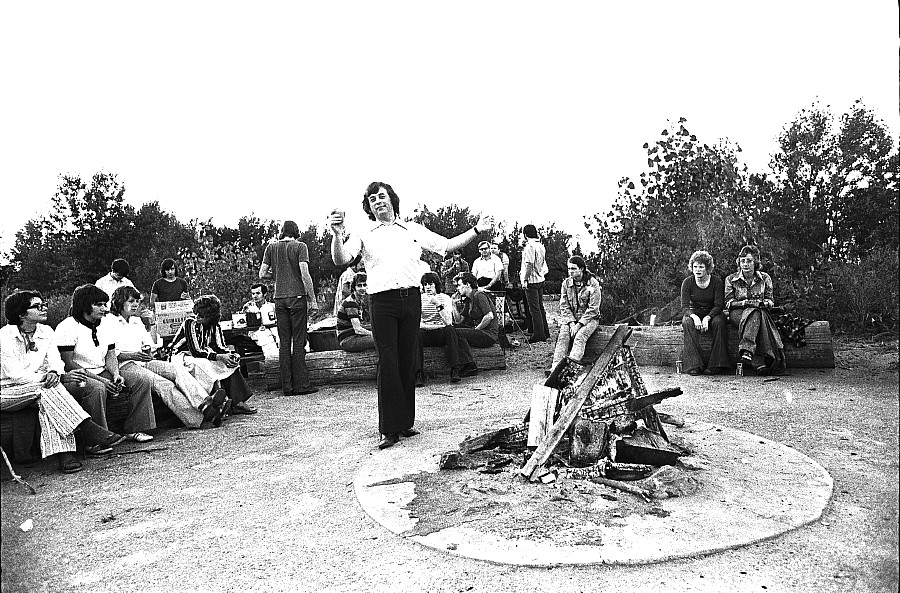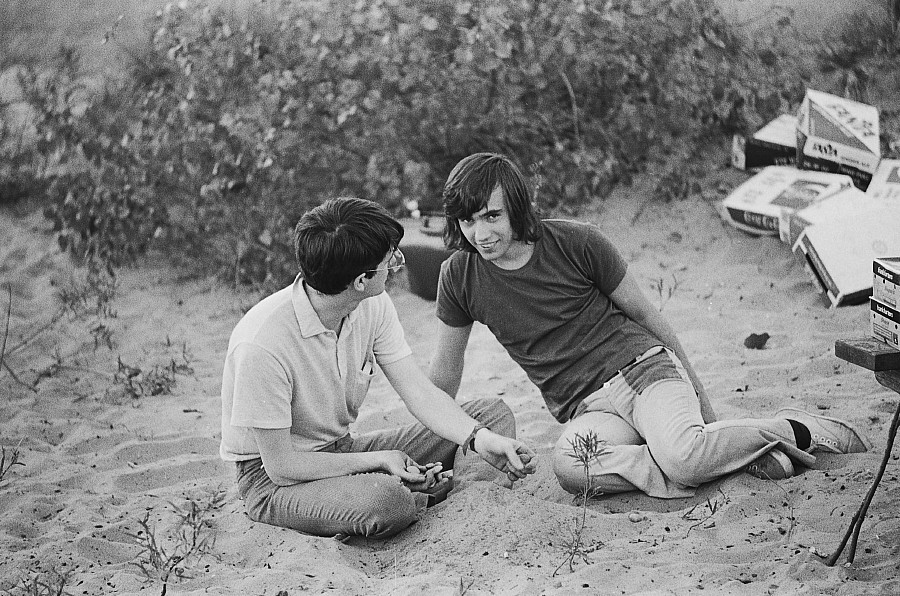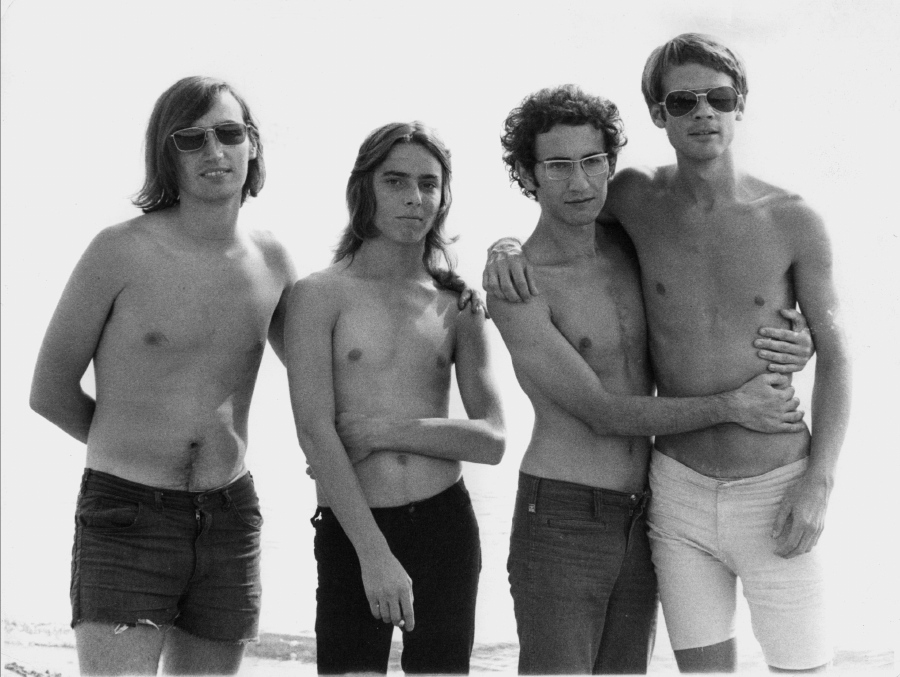 ---
GAY PRIDE WEEK AUGUST 17-26, 1973
---
THE 1973 GAY PRIDE MARCH: Go to the top of the page for a link to Youtube VIDEOS of the 1973 Pride March
---
GAY PRIDE WEEK AUGUST 17-25, 1974
---
THE 1974 GAY PRIDE MARCH: Go to TORONTO GAY PRIDE MARCH 1974 for PHOTOGRAPHS of the march.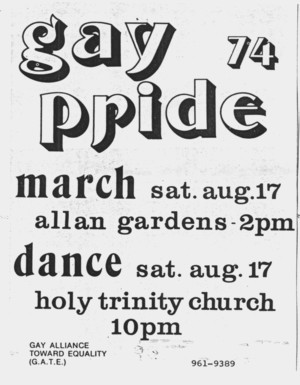 ---
This 1974 program below limits itself to CHAT/MCC events and doesn't include the 1974 march (above), which was handled by GATE.
GAYDAYS, AUGUST 24-27, 1978
---
Go to
ONE DAY FROM GAYDAYS, 1978
for
PHOTOGRAPHS
of the Saturday FAIR listed for August 26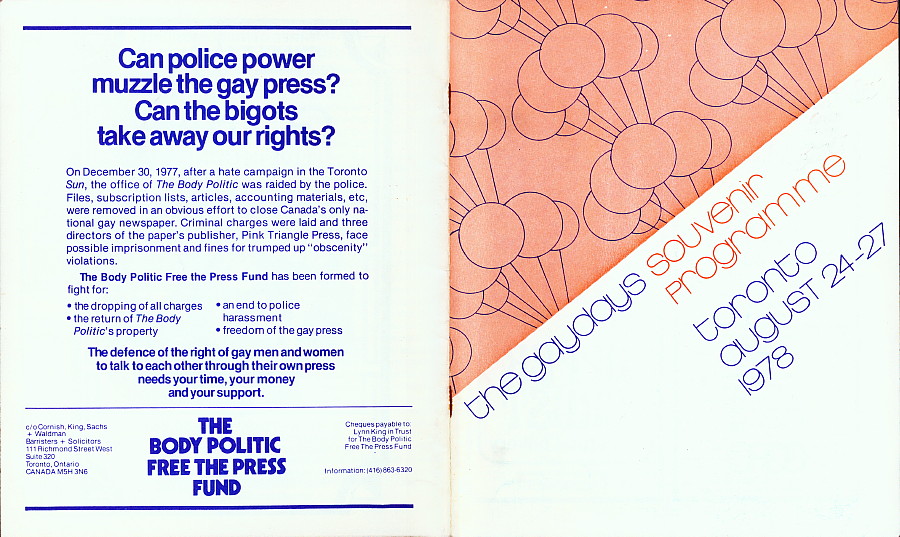 GAYDAYS OPENING NIGHT
will feature GEORGE HISLOP, for many years the voice of the homophile movement in Toronto, and now the proprietor of a very stylish bar, reminiscing about gay Toronto in the days of yore; SHEILA GOSTICK, the bright new comic who's the hit of Yuk-Yuk's komedy kabaret; FERRON, the popular Vancouver-based lesbian singer/song writer, star entertainer of the first "Gay News and Views" TV season and very witty person; and JOHN RECHY, author of CITY OF NIGHT, NUMBERS, and THE SEXUAL OUTLAW. RECHY, whose first novel was published in 1963, has in recent years become increasingly outspoken in his defense of open gay sexuality, and in his condemnation of both sado-masochism and censorship.
COLLEGE OF EDUCATION AUDITORIUM SOUTH-EAST CORNER OF BLOOR AND SPADINA 8:00 PM $3.00
FRIDAY AUGUST 25
S&M: A DISCUSSION
JOHN RECHY is perhaps the most severe critic of the role Sado-Masochism plays in gay male culture. JOHN ALAN LEE is a Toronto Sociologist and writer whose most recent book, GETTING SEX, in part defends S&M. LIBERATED ENERGY has been able to arrange a public discussion of sado-masochism which will feature these two writers, and will be moderated by David Mole.
519 CHURCH STREET COMMUNITY CENTRE PINE ROOM 3:OOPM

DRASTIC MEASURES
ANTI-NORMAL, one of the newest gay organizations in the city, is sponsoring a concert/dance with the very popular rock 'n roll band, Drastic measures. Non-stop dancing, licensed bar, food; the first big gay rock dance in town.
519 CHURCH STREET COMMUNITY CENTRE 9 PM $2.50

WOMEN'S MUSIC CONCERT
LIBERATED ENERGY is pleased to present, in their Canadian premiere, a major U.S. women's band, the IZQUIERDA ENSEMBLE. IZQUIERDA is a group of four women from Portland, Oregon, who present their original music in an innovative, acoustic form that emphasizes vocal harmonies. Many of the songs reflect feminist and Third World consciousness; most are written by Naomi Littlebear, a Chicana woman. Through a skillful interweaving of voices and piano, guitar, flute, and percussion, the ensemble creates its own unique and energizing harmonic blend percussion, the ensemble creates its own unique and energizing harmonic blend. Also performing will be April Kassirer, well known in Toronto for her skillful guitar work and sensitive song-writing as well as her fine voice. Both men and women are welcome to enjoy this evening of fine women's music.
INNIS TOWN HALL, UNIVERSITY OF TORONTO, 2 SUSSEX 8:OO PM $4.50 ADVANCE $5.00 AT THE DOOR

AFTER THE CONCERT: A WOMEN-ONLY PUB
A women-only pub will be held at the Innis Pub, admission free with concert-ticket stubs, $1.00 cover charge otherwise.

CELEBRATE LESBIAN CULTURE
Write a short story and win a prize as well. Enter the Great Canadan Lesbian Fiction Contest spnsored by The Body Politic. Lesbian novelists Jane Rule and Marie-Claire Blais are the judges-prizes are $400, $200, and $100 plus publication in The Body Politic. The deadline is January 2, 1979. For more information call 863-6320 or write The Great Canadian Lesbian Fiction Contest, c/o The Body Politic, Box 7289, Station A, Toronto M5W 1X9.
SATURDAY AUGUST 26
THE FAIR
This is the one part of GAYDAYS that has been designed for all the gay people of Toronto, and their friends and loved ones gay or straight. Over forty organizations are active in Metro right now, and they'll all be at the fair to talk about what the gay community is doing these days. As well be continuous music from talented singers and musicians (including FERRON, and BOO WATSON, a local feminist singer/songwriter), arts and crafts in exhibition, a poetry corner, clowns and mime artists performing throughout the park. Box lunches will be available close by, so you can spend a couple of sunny hours getting to know the organized gay community, and each other, a little better.
QUEEN'S PARK, NORTH OF WELLESLEY 11:00 AM TO 5:00PM

IN BETWEEN: ADULT REFRESHMENT GARDEN
The fair ends at five, the dance doesn't start until nine, and even if you take an hour's nap, you'll be ready to go by seven. What to do? Why not visit the 519 Church Street Community Centre, where an adult refreshment garden is being held at the edge of Cawthra Square Park. Handy to downtown, too.

THE BIGGEST GAY DANCE IN THE HISTORY OF TORONTO
If it was any bigger it would have to be outside! St. Lawrence Market North, where so many gay people buy their vegetables on Saturday morning, will be transformed into the biggest dance palace in town by Saturday night. The best music from two of the best DJ's in Toronto, Ilona Laney and Don Bell, will keep you moving all evening long. We have arranged for a special occasion permit from the Liquor Control Board of Ontario, and there'll be a lavish buffet supper.
And don't forget: The Gaydays Raffle Lottery (round-trip ticket for two to San Francisco) will be drawn at midnight.
ST. LAWRENCE MARKET NORTH FRONT AND JARVIS, 9:00 PM $3.00
SUNDAY AUGUST 27
ECUMENICAL SERVICE
The Metro Toronto Inter-Faith Gay Council, which includes Dignity, Integrity, Congregation B'nai Kehillah, and the Metropolitan Community Church, is sponsoring a Sunday morning ecumenical service on the Toronto Islands. For up to the minute information, call or drop in to the MCC House, 29 Granby, (364-9799), or visit their display at the fair. The guest speaker at the service will be Reverend NANCY WILSON, pastor of MCC Detroit.
TORONTO ISLAND — FOLLOW THE SIGNS 11:00 AM.

PICNIC
The final event of the GAYDAYS schedule, the picnic on Hanlan's Point will giv e everyone a chance to relax after a busy few days, and get a sunburn too. LIBERATED ENERGY will provide a free piece of watermelon (while supplies last) and you can watch a special baseball game between teams from the men's softball league and the women's fastball league. Game time is 3 PM, at the baseball diamond near the fishing pool. FROM NOON TILL THE LAST FERRY HOME
SIMULTANEOUS WITH GAYDAYS
WORD IS OUT: STORIES OF SOME OF OUR LIVES
NEW YORKER CINEMA, 651 YONGE ST. STARTING AUG. 18TH, SHOWS AT 7 & 9:30. $3.75. SENIOR CITIZENS $1.50

WEDNESDAY AUGUST 23
THE CAMPAIGN AGAINST HOMOSEXUALITY AND GAY RIGHTS: A RADICAL PERSPECTIVE — THORSTAD, A TALK
519 CHURCH STREET COMMUNITY CENTRE — PINE ROOM 8:00 PM. $2
GAY COMMUNITY SERVICES listed in the Gaydays program:
ANTI-NORMAL, APHRODITE'S ALTERNATIVE, THE BODY POLITIC, CANADIAN GAY ARCHIVES, CATALYST PRESS, CHATSWORTH CHARITABLE FOUNDATION, COALITION FOR GAY RIGHTS IN ONTARIO, COMMITTEE TO DEFEND JOHN DAMIEN, COMMUNITY HOMOPHILE ASSOCIATION OF TORONTO (CHAT), CONGREGATION B'NAI KEHILLAH OF TORONTO FOR GAY JEWS, DIGNITY FOR GAY CATHOLICS, FREE LESBIANS AND GAYS (FLAG), GAY ACADEMIC UNION, GAY ALLIANCE TOWARD EQUALITY (GATE), GAY COMMUNITY CALENDAR, GAY COMMUNITY SERVICES CENTRE, GAYS AT TORONTO (GAT), GAY TELEVISION COLLECTIVE, GAY YOUTH TORONTO, GAYS AT YORK, GAY EQUALITY MISSISSAUGA, GLAD DAY BOOKSTORE, HARBINGER GAY MEN'S DROP-IN, HARBINGER LESBIAN DROP-IN, HASSLE FREE CLINIC, INTEGRITY - GAY ANGLICANS, LESBIAN AND GAY TRADE UNION GROUP, LESBIAN ORGANIZATION OF TORONTO (LOOT), METROPOLITAN COMMUNITY CHURCH, GAYLINE WEST, GAY OFFENSIVE COLLECTIVE, GAY TV, LIBERTARIANS FOR GAY RIGHTS, NDP GAY CAUCUS, OLDER LESBIANS AND GAYS, OSGOODE GAY CAUCUS, PINK TRIANGLE PRESS, THREE OF CUPS, TAG (TORONTO AREA GAYS), TORONTO WOMEN'S BOOKSTORE, TRANSVESTITES IN TORONTO, TRI-AID CHARITABLE FOUNDATION, WAGES DUE LESBIANS, WOMEN'S ARCHIVES